Home
/ E&P Regime/ NELP Rounds
NELP Rounds
New Exploration Licensing Policy (NELP):
New Exploration Licensing Policy (NELP) was formulated by the Government of India, during 1997-98 to provide a level playing field to both Public and Private sector companies in exploration and production of hydrocarbons with Directorate General of Hydrocarbons (DGH) as a nodal agency for its implementation. Government of India's commitment to the liberalization process is reflected in NELP, which has been conceptualized keeping in mind the immediate need for increasing domestic production. To attract more investment in oil exploration and production, NELP has steered steadily towards a healthy spirit of competition between National Oil Companies and private companies. This has been a landmark event in the growth of the upstream oil sector in India. The foreign and Indian private companies are invited to supplement the efforts of National Oil Companies in the discovery of hydrocarbons. The development of E&P sector has been significantly boosted through this policy of Government of India, which brought major liberalization in the sector and opened up E&P for private and foreign investment, where 100% Foreign Direct Investment (FDI) is allowed. Under NELP, which became effective in February 1999, acreages are offered to the participating companies through the process of open competitive bidding. The terms and conditions of this open and transparent policy rank amongst the most attractive in the world.
Under NELP, blocks were awarded to Indian, private and foreign companies through International Competitive Bidding process where NOCs viz. ONGC and Oil are also competing on equal footing.
Chronology of NELP Events: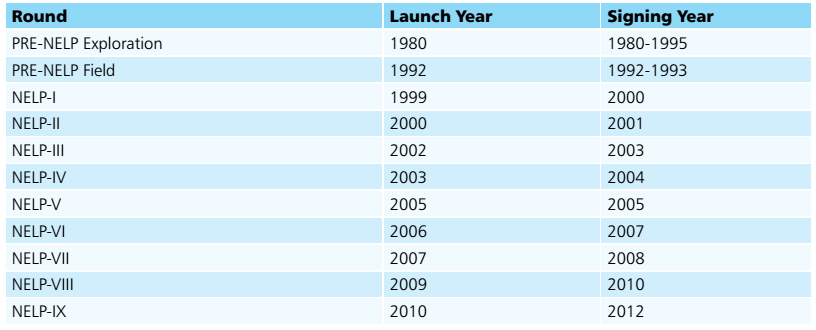 Blocks Awarded Under NELP Rounds: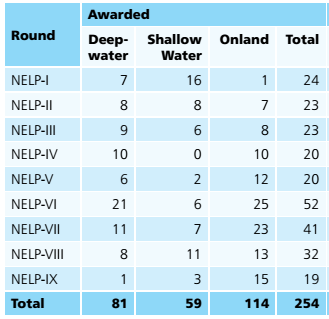 The Government has taken number of measures to bring in healthy competition and public participation by the way of NELP for exploration & production of Oil & gas in the country. NELP has not only accelerated the quest for hydrocarbon exploration, but has also brought the state of the art technology and efficiency of operations /management to the country.
Basin-wise distribution of PEL areas under operation (Pre-NELP & NELP blocks) (as on 01.04.2015)